Future Self Mastery Course Online
Setting and achieving goals is a process that can be difficult to do on your own. That's where this online course comes in! Future Self Mastery is designed to help you set and achieve your life goals in an efficient and productive manner.
You will learn how to create a roadmap to your goal, identify the steps you need to take to achieve them, and find the motivation to keep going when the journey gets tough.
The benefits of goal setting are widely known. When you set and achieve goals, you become more productive, increase your chances of success, and improve your overall quality of life.
For many people, goal setting is a difficult process that can be hard to do on your own. So our Master Mind Flow team developed this revolutionary program to make sure you have everything you need to set and achieve your BIG life goals.
Below you see a summary of the main steps of the course and what you can expect to learn from this course.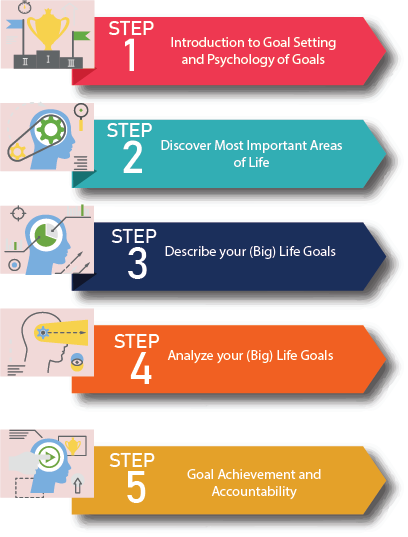 Future Self Mastery program contains all the recent research, methods and tools to get you started on the path to creating your Ideal Future Life.
You will learn how to manage your time so that you can take advantage of opportunities when they present themselves, as well as how to minimize distractions so that you can stay focused on completing your tasks for the day.
You will also learn how to break down big goals into smaller ones so that you can make progress on a daily basis. This course will help you stay motivated and focused on your goal. It is perfect for people who want to accomplish something amazing with their lives but don't know where or how to start.
Future Self Mastery program will guide you step-by-step through the process of goal setting and achievement so that by the end of this course, you'll have all of the tools needed to set up your own action plan and make it happen.
The Course contains the following features:
Determine what you want to achieve
Discover the 5 most important areas of Life
Set and achieve realistic goals
Create a roadmap to your Big goals
Take action on your roadmap
Techniques to monitor your progress
Celebrate your successes and become more accountable
Adjust your Ideal Future plan as needed
Module 1 - Program Introduction
Module 2 - Your Ideal Future
The course has been specially designed for people who want to achieve their goals but don't know where to start or what exactly they need to do.
You may have set your sights on something big, maybe you've been trying for years to start a business, lose weight, get out of debt, or find the love of your life—but somehow it just hasn't happened.
If this sounds familiar, then this course is for you. You'll learn how to:
-Create a clear plan for where your goal will take you and what it will look like when you get there
-Build a blueprint that helps you identify all the steps along the way from where you are now to where you want to be in 6 months (or longer) from now.
-Make sure that each step along the way serves its purpose in moving towards your ultimate goal.
By the end of this course, you will be able to:
Understand the basics of goal setting
Create a roadmap to your goal
Identify the steps you need to take to achieve them
Find the motivation to keep going when the journey gets tough
Remain strong and accountable and design your future the way you want it