Personality Assessment and Transformation Course
Present Self Mastery will help you discover your personality and everything about it: your strengths, weaknesses, motivations and desires.
It's an in-depth examination of the 5 most crucial Personality traits. After taking Present Self Mastery course, you'll be able to use that knowledge to make better decisions about life goals, relationships and career paths. You'll truly understand who you are as a person and how to use that knowledge in order to live a more fulfilling life.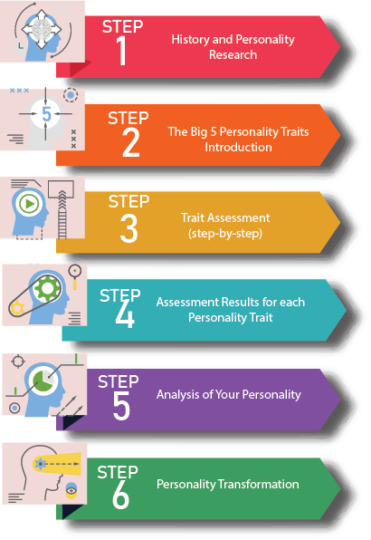 Have you ever wondered who you really are?
Have you ever wanted to know more about yourself?
Do you want to learn more about your personality and how it affects the way you interact with others?
5 Most Crucial Personality Traits
Or perhaps you're just curious about what makes people tick. Well, if so, then this course is for you! We'll look at what makes up your unique personality by analyzing the 5 most crucial personality traits and how that manifests itself in your life. It's a great way to learn more about yourself and understand others better as well.
You'll gain a greater understanding of what makes you unique and how that can help you identify and pursue your passions. This course will also help you understand yourself better by examining your relationships with others, how you approach conflict, and how you prefer to work with others on projects.
Module 2 - Research and The 5 Big Personality Traits Overview
Module 3 - Your Personality Assessment
In this online course, we will examine and reflect on your personal characteristics in-depth. Your personality will be revealed with the world's most recognized personality test. You will Asses your personality based on the 5 Big Traits Personality model. Here you will get to examine who you really are based on the most fundamental traits a human has.
This assessment consists of a series of questions answered on a 1-5 scale (1 being strongly disagree and 5 being strongly agree). The questions are designed to assess five most important dimensions of personality: openness to experience (O), conscientiousness (C), extraversion (E), agreeableness (A), and neuroticism (N).
Your present identity will be explored through a series of 5 separate assessments of the 5 essential traits.
This program encourages you to look at yourself from an objective perspective which can yield huge benefits.
As long as you keep an honest and curious attitude, this program can guide you to deep self-realizations.
Each assessment consists of a set of Unique questions that will measure one out of five personality traits and what influence it has on your overall identity and how you behave in your daily life. Each assessment is around 10 to 15 minutes long.
At the end of the questionnaire you will receive your results and feedback. After you familiarize yourself with the results you will write about that specific trait and how it manifests in your life.
The deeper you will concentrate on your writing the more understanding you will have of your own identity and motivations.
Please keep in mind that your writing is done for you only and no one else, the more honesty you let in the more benefits you will get out.
The Course starts with a detailed introduction to the 5 big traits personality theory and how it became the standard of personality assessment in Psychological research since its inception.