Past Self Mastery – Unlocking Memories and Learning from Past
Welcome to Past Self Mastery, a Unique online course designed to guide you on a journey of self-discovery, healing, and personal growth.
This Course is Part 2 from the 3 Course series "Full Life Mastery Program".
Through a comprehensive exploration of your past, this course empowers you to unlock the hidden treasures of your memories and gain profound insights that shape your present identity and future aspirations.
By learning how to heal from your past memories and harness their wisdom, you'll emerge with a renewed sense of self, purpose, and direction.
Past Self Mastery is an online course that allows you to unlock your memories and learn from your past in order to understand which are the most significant memories that formed the person you are today.
Past Self Mastery Course Overview:
Have you ever wondered how your current behavior or personality traits are a direct result of what you experienced in the past?
Well, psychologists know that they are, and they refer to this theory as "the past is the key to understanding the present."
The Past Self Mastery online course will help you understand the origins of who you are so that you can build on those foundations and better understand your strengths and weaknesses.
Key Learning Objectives:
Healing Through Reflection: Engage in guided self-reflection exercises that facilitate healing from past memories and experiences. Learn reflective techniques to transform pain into growth and resilience, fostering a sense of emotional well-being.
Memory Unlocking Strategies: Discover effective methods for accessing long-forgotten memories and bringing them to light. Utilize mindfulness, journaling, and visualization techniques to uncover hidden treasures from your past.
Positive Perspective Transformation: Shift your perspective on past experiences by identifying valuable lessons, strengths, and personal growth opportunities within each memory. Embrace a positive outlook on your journey.
Self-Understanding and Identity: Explore how significant memories have shaped your identity, beliefs, and values. Understand the intricate connections between your past experiences and your Present Self.
Life Mapping for Insight: Create a comprehensive life map that visually traces your life's chapters, including pivotal moments and transformative milestones. Gain clarity about your life's trajectory and patterns.
Practical Application: Apply the insights from your past memories to make informed decisions that align with your authentic self. Enhance your ability to set and achieve meaningful goals in various life areas.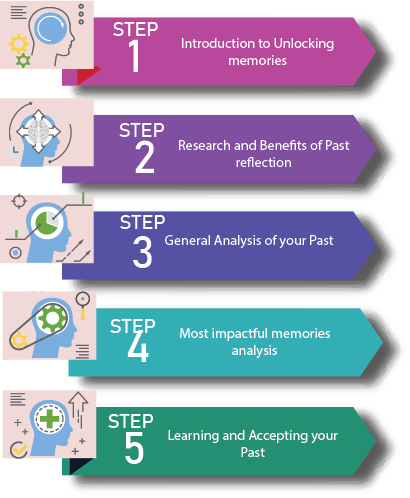 In the Past Self Mastery course, you'll learn how to identify and organize your memories to help you see yourself in a new and positive light.
You'll be able to see where your personal history has led you, and how it can inform your current decisions and future goals.
Who Should Enroll?
Individuals seeking personal growth and self-discovery through a deeper understanding of their past.
Those interested in healing emotional wounds and reframing their perspective on past experiences.
Anyone looking to make more informed decisions aligned with their true self.
Individuals desiring clarity, purpose, and empowerment in navigating their life's journey.
Why Choose Past Self Mastery:
Scientific Foundation: Our course curriculum is based on the scientifically validated principles and verified benefits of past reflection,  ensuring accuracy and reliability in your self-discovery journey.
Comprehensive Approach: Past Self Mastery offers a holistic exploration of your past, enabling you to heal, grow, and transform your relationship with your personal history.
Practical Application: The course equips you with practical tools to reframe your past, make informed decisions, and navigate life with a renewed sense of purpose.
Personal Empowerment: By understanding and harnessing the wisdom of your past, you'll emerge with greater self-awareness, resilience, and empowerment.
You will identify your most predominant hindrances to self-mastery related to your past experiences.
You will use this knowledge to understand which are the most significant memories that formed the person you are today and what you can learn from them.
Course Completion and Beyond:
After completing Past Self Mastery, you'll emerge equipped with transformative insights and practical tools that will stay with you for life. Your newfound understanding of your personal history will serve as a foundation for continued personal growth, resilience, and empowered decision-making.
This is not a course about looking back on what happened in order to feel sorry for yourself or regret things you did. Instead, it's about moving forward from those experiences and letting them inform your current actions so that they can guide you toward a better life.
You will leave this course empowered with the knowledge of who you are, why life is worth living, and what steps need to be taken next!
Enroll in Past Self Mastery today and embark on a journey of healing, self-discovery, and empowerment that will illuminate your path to a more purposeful and fulfilling life.
This Course is part of the Life Mastery Program. You can own all 3 courses (Past, Present and Future Self Mastery) for a limited time offer. Get your 70% off deal by visiting this Page.
Module 1 - Program Introduction
Module 2 - Past Reflective Practice
About the Instructors