Past Self Mastery Course
Past Self Mastery is an online course that allows you to unlock your memories and learn from your past in order to understand which are the most significant memories that formed the person you are today.
Have you ever wondered how your current behavior or personality traits are a direct result of what you experienced in the past? Well, psychologists know that they are, and they refer to this theory as "the past is the key to understanding the present." This Past Self Mastery online course will help you understand the origins of who you are so that you can build on those foundations and better understand your strengths and weaknesses.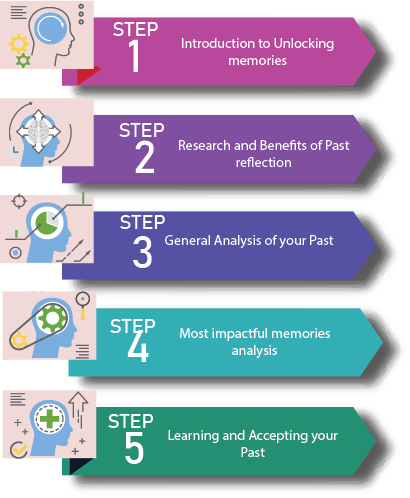 In the Past Self Mastery course, you'll learn how to identify and organize your memories to help you see yourself in a new and positive light. You'll be able to see where your personal history has led you, and how it can inform your current decisions and future goals.
Hindrances To Self-Mastery
You will identify your most predominant hindrances to self-mastery related to your past experiences. You will use this knowledge to understand which are the most significant memories that formed the person you are today and what you can learn from them.
This is not a course about looking back on what happened in order to feel sorry for yourself or regret things you did. Instead, it's about moving forward from those experiences and letting them inform your current actions so that they can guide you toward a better life. You will leave this course empowered with the knowledge of who you are, why life is worth living, and what steps need to be taken next!
Create a better understanding of who you are by learning from past and what is needed in order to make positive changes going forward.
Module 1 - Program Introduction
Module 2 - Past Reflective Practice
The Past Self Mastery is an unique program that helped thousands of individuals examine their past experiences and learn from their past.
You will delve into your past in order to understand which are the most significant experiences that formed the person you are today. You will have the chance to explore your most deep rooted memories and identity characteristics and investigate how those experiences created the person that you are today, with all your strengths, ambitions and weaknesses.
The program starts with a brief overview of psychological research on the topic of memory and their importance in forming your current Self (identity).
In the next steps you will find out the benefits of past reflection and why memories are considered Core Impact Points.
The process of analyzing your past follows a structured approach that consists of a series of analytical questions.
You will openly answer the questions while reflecting on your past and the impact of those experiences.
As you progress to the next sections of the Past Self Mastery course your analysis will deepen and you will identify and focus on the most  significant memories and their impact of your Self(identity).
Get ready for amazing breakthroughs and deep insights into your past. You will soon master your past!